When
my kids were young
, I experienced a strong pull to fulfill a creative calling that was hard for me to put a finger on. I finally followed the
pull
to work with my hands to create something. With a friend's help, I began making simple jewelry. It was a relaxed and low pressure experience, very different from the Theatre Conservatory background I had come from.
Within a couple of months, I was selling my work at the Milwaukee Public Museum gift shop.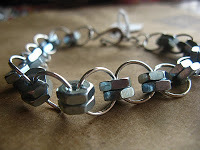 It didn't take me long to begin exploring with many types of media until I was knitting, sewing, mosaic-ing collage-ing, drawing, painting, upholstering, etc. Taking that first step, with a little help from a friend, opened me to a whole world of creative possibilities!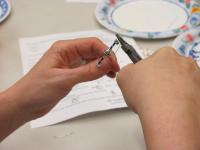 It's with this attitude that I approached my work at the Monona Public Library. I created the popular "Fearless Crafters" Series in 2011. "Fearless Crafters", a very popular program, encourages people of all ages to reconnect with their creative selves. I guide people through making projects and sharing the creative flow experience. The positive feedback I get back makes me want to be able to further extend my reach.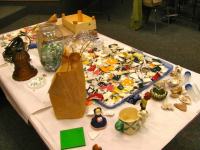 I am inspired to make bigger messes and more involved projects that take more time than any library can afford to spare. I am actively seeking opportunities to bring my unique artistic vision out into the world. I offer diverse workshops in Art Journaling, Found Paper Journals, Garden Art, Mobile Making, Family Doodle Parties, Improvisational Quilting, and Dyeing with Indigo, among others.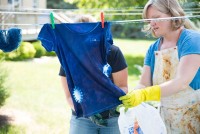 I'm determined to get you off the couch to begin opening your creative life! It won't be hard, everyone is creative, it's human nature. My work and passion are to be an antidote to the "Fear of Making". I do this work out of a deeply held conviction that the act of creating something out of nothing feeds our soul and self-worth and is just plain fun.
Sometimes, all we need is the right encouragement–That's where I come in.
My mission is to help people get in touch with their inner muses and to create an environment which centers on the process, and strongly encourages experimentation and play.
Making one creative leap can open us all up to a world of creativity.
I help people to take the risk of making mistakes with my supportive presence as a guide.
I'm leading classes in the Madison area with more awesome fun stuff ahead.
If you have questions, requests, comments, or knock knock jokes to share; you can either TEXT me at 608/852-3970 or email Jennifer@JenniferFalkowski.com.