< iframe src="https://www.googletagmanager.com/ns.html?id=GTM-K9NF9ZK" height="0" width="0" style="display:none;visibility:hidden">
Hey, I'm Jen

I dye fabric and teach people how to dye with indigo.
I help people who are looking for a way to add more creativity and play to their days.
I show them how to have more creative fun, while sprinkling in a little play time.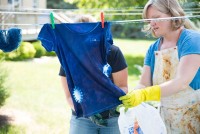 I founded and run the super popular Fearless Crafters Program at the Monona Library.  I'm also coordinating a community mending day there.

I teach creative classes of all sorts at the American Family Dream Bank, local libraries and privately.
And when I'm not enabling your creativity or dyeing, painting, doodling or writing on my own projects, I can be found hanging with my two teen-aged kids, husband and our little bitty rescue dog Gus.  We love to go to the movies and travel to visit our family who live in warm places by oceans.  You'll know me when you see me, I'm the one who is always wearing blue and probably telling dirty jokes.

If you're dying to know more, here are three things you don't know about me…
I have a sofa in my kitchen instead of a table,
I've spent whole entire wedding receptions out on the dance floor,
I love mail art.
My work and passion are to be an antidote to the "Fear of Making".  I do this work out of a deeply held conviction that the act of creating something out of nothing feeds our soul and self-worth and is just plain fun.

Sometimes, all we need is the right encouragement. That's where I come in.
PAge
Play with me, right this second, by joining my Facebook page to get updates on my latest shenanigans!